Additional Features:
TrueChrome IIS is the new generation of TrueChrome II with improves of sofware.

TrueChrome IIS adopts innovative FPGA dual-core processor, FPGA1 high-definition image quality processor and FPGA2 image output controller, to ensure high speed high quality images.

Guaranteed 30 fps at 1080p, TrueChrome IIS presents a perfect combination of outstanding resolution and frame rate, which allows the user to smoothly manipulate live images without any monitor lag.

TrueChrome IIS automatically analyzes the acquired images andoptimizes the white balance, exposure time and saturation, to present perfect images. Whatever for bright field bio imaging or dark field birefringent crystal imaging, TrueChrome IISdelivers ideal images, barely needing any parameter adjustment.

Taking advantage of the ultra-high signal to noise ratio sensor, TrueChrome IIS allows you to set up to 10 seconds exposure time. The incredibly efficient 3D noise reduction performance delivers finest detailed images for low light fluorescence.
The Built-in Measurement Funtion
With built-in critical dimensioning functionality, the TruechromellS is not only a superb imaging camera, but also a powerful metrology tool. This greatly extends the application areas of the Truechrome camera. The metrology functions include calibration, scalebar and line measurement.
Built-in Mouse Control Camera
The significant innovation of TrueChrome IIS is embedding the application software inside the camera. The user can control the camera with just a mouse. There is no need for a PC.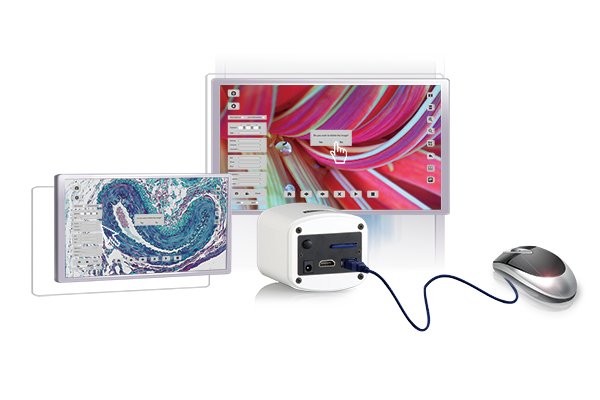 The less Icons the Better
TrueChrome IIS embedded software is designed for ease of use. There are only two icons on the software starting screen, one for image capture and the other for the settings menu. It's as intuitive as asmartphone.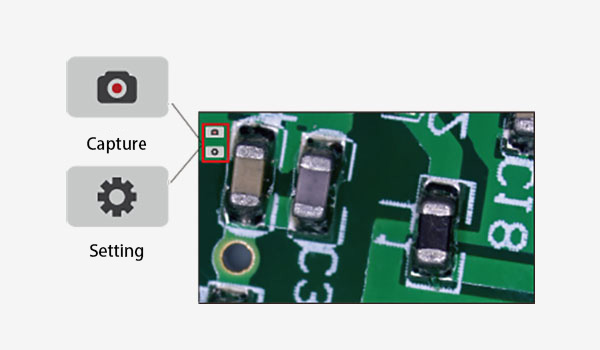 Exposure setting
For the first time, an HDMI camera is equipped with complete exposure and gain settings. It allows to exposure settings from 1ms to up to 10 seconds and 20 levels of gain adjustment. Compared with 1st generation TrueChrome where only auto exposure was available, the ease of use has been significantly improved and moreover, the sensitivity is 300 times higher.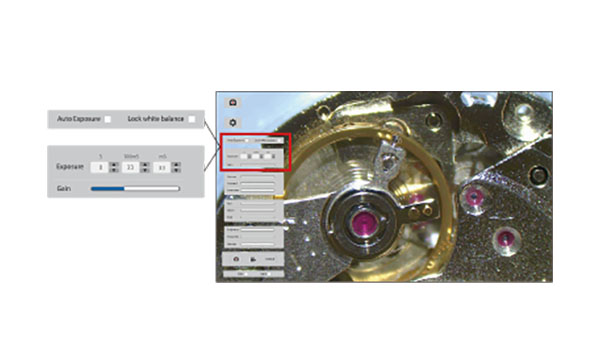 3D Noise Reduction
An increase of the exposure time increases the image noise. But the integrated 3D noise reduction function keeps the TrueChrome IIS image always clean and sharp. The following comparison images show the amazing 3D noise reduction effect.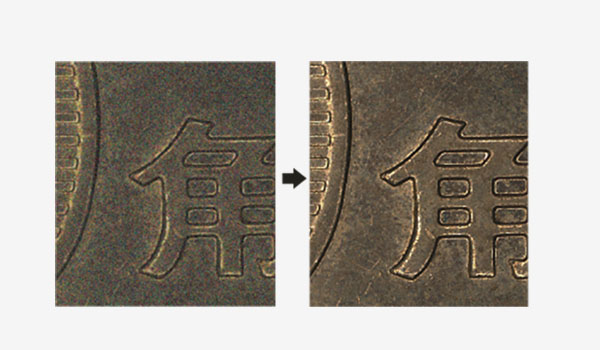 1080P Video Recording
Just click on the button to start recording 1080P videos at 30fps. The recorded video files will be saved to the high speed SD card directly. It is also allows playback the videos in the SD card directly.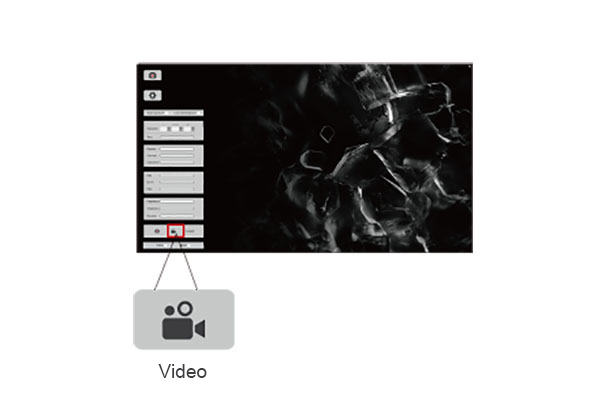 Get more Details with ROI Magnification Funtion
A series of image operation buttons on the right side of the screen allows the image to be flipped, rotatedor a Region of Interest (ROI) to be selected. The ROI function can help to get more image details throughmagnification.
Image Comparison Function
The image comparison function is available in the setting menu. An image can be chosen to compare with the live image and even movedaround or have a ROI selected.
---
| | | |
| --- | --- | --- |
|   | TureChrome IIS | TrueChrome II |
| Advantage | Calibration and Measurement | Perfect color reproduction |
|   | Perfect color reproduction | Highly intelligent |
|   | High speed data transmission | High speed data transmission |
|   | Fluorescence imaging | Fluorescence imaging |
| Sensor | Sony IMX236  | Sony IMX236  |
| Sensor size | 1/2.8" | 1/2.8" |
| Dynamic resolution | 1920x1080 | 1920x1080 |
| Static resolution | 3264x1840 | 3264x1840 |
| Frame rate | 1920x1080 30fps via USB2.0 | 1920x1080 30fps via USB2.0 |
|   | 1920x1080 60fps via HDMI | 1920x1080 60fps via HDMI |
| Capture | High speed SD card(8G) | High speed SD card(8G) |
| Video recording | 1080p 30fps @SD Card | 1080p 30fps @SD Card |
|   | 1080p 30fps @PC | 1080p 30fps @PC |
| Exposure time | 0.001sec-10.0sec | 0.001sec-10.0sec |
| White balance | Auto | Auto |
| Setting | Gain,gamma,saturation,contrast | Gain,gamma,saturation,contrast |
| Built-in software | Cloud 1.0 Ver | Cloud 1.0 Ver |
| PC software | ISCapture | ISCapture |
| Output port | USB2.0、microSD Card、HDMI | USB2.0、microSD Card、HDMI |
| Compatible OS | Window XP and above | Window XP and above |
| Optical port | Standard C-Mount | Standard C-Mount |